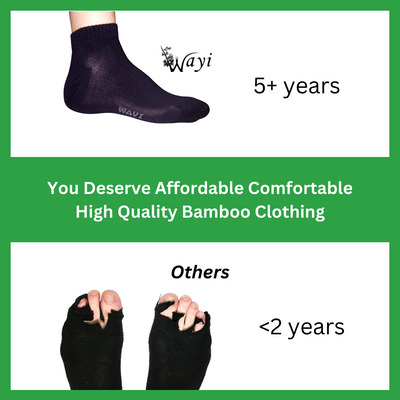 High Quality At Affordable Pricing
How is it possible?
We don't dropship or have any middle man. All products our are own. We manufacture everything you see! We pass on these savings to you the consumer while maintaining the high quality of our bamboo clothing fabrics.
About Wayi Bamboo
At Wayi Bamboo, we choose to support sustainable growth and production by providing natural products that have minimal to no negative environmental impact.
For example, bamboo naturally repels insects and therefore pesticides use is not necessary. There are over 1200 species of bamboo on this planet. All our products are manufactured from the bamboo species, moso, which is not eaten by Pandas.
The dyes used in our products are Azo free (free of hazardous chemicals) and meet the strict environmental standards the Europeans require for dyes. Wayi Bamboo products are hypoallergenic and are a good option for the chemically sensitive. ORDER NOW
LEARN MORE
Making High Quality Banmboo Clothing Since 2006
Over 17 years & counting!